Horned Puffin
Fratercula corniculata

In 2010 we took a family vacation to Alaska. The highlight of the trip was a day and a half wildlife cruise, interspersed with a one-night stayover on "Fox Island" off the coast of Seward. The island had several cabins adjacent to the coast. The next morning we were slated to reboard the boat for a day-long cruise, but we first headed down the rocky beach to breakfast. We noticed several puffins foraging just off the beach, so I returned and got my camera and started shooting. Most of the puffins were relatively far from shore, too far to get good photographs. However, one puffin was foraging within 10-20 yards of the shoreline. After he made a dive, I crept down to the water's edge and waited for him to resurface. To my surprise (and to his, I believe), he surfaced fairly close to me, with a mouth full of fish. He made a few flaps of his wings, settled down for a moment, and then took off to (presumably) deliver breakfast to a waiting family at the nest. It remains the closest views I've had of a wild puffin, made more memorable by the chance to get a photo of a foraging bird with a mouthful of fish.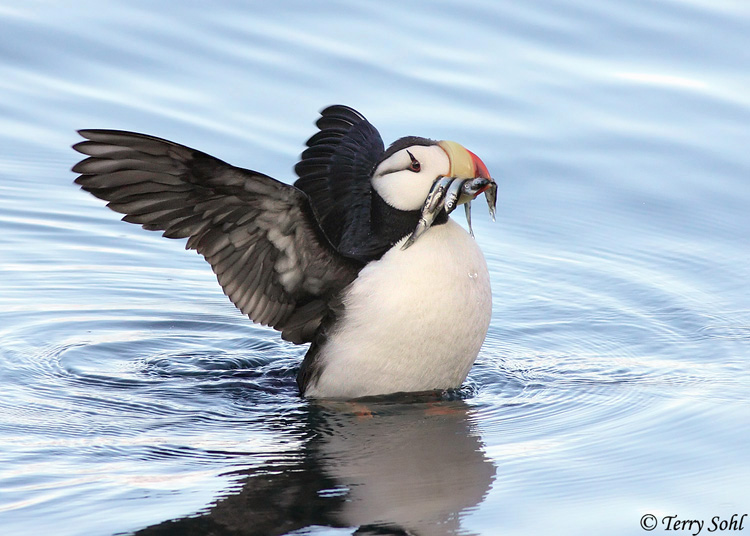 Click here for more information on this species
All photos copyrighted! Click for information on commerical usage, or usage for other personal purposes.
Please email if you'd like to order a print of these photos
Use the following Google dialogue to search this South Dakota Birds and Birding site:
Custom Search
SOUTH DAKOTA BIRDS AND BIRDING - LOCATIONS OF WEBSITE VISITORS
Please mail any comments/suggestions/additional links for this page to: Terry L. Sohl