Black-billed Magpie
Pica hudsonia
One benefit to traveling for work is that I sometimes take a day or two of my own time to explore a region and take photos. In January of 2017, I had meetings in Bozeman, Montana, and decided to take a quick 2-day trip down to Yellowstone. One morning I was in the Lamar Valley in the northern part of the park, when I came across three massive bull Bison, dozing close to the side of the road. The temperature at the time was close to 20-below, and it was somewhat surreal seeing the steamy breath around the 3 sleeping giants. As I was taking photos, a Black-billed Magpie flew into the scene, and much to my delight, landed on the head of one of the Bison! For a while, the Bison didn't seem to mind as the Magpie hung out in the coarse fur. The Magpie started searching through the fur with its bill...curious, since I can't imagine there were any insects or other food items present on a 20-below morning. The Bison grew increasingly frustrated by the bird's movements, and finally with a great shake of its head, the bird was gone. During the action I was able to grab several photos, and I must say in all the thousands of photos in my collection, this is the ONLY bird photo that has such a unique perch.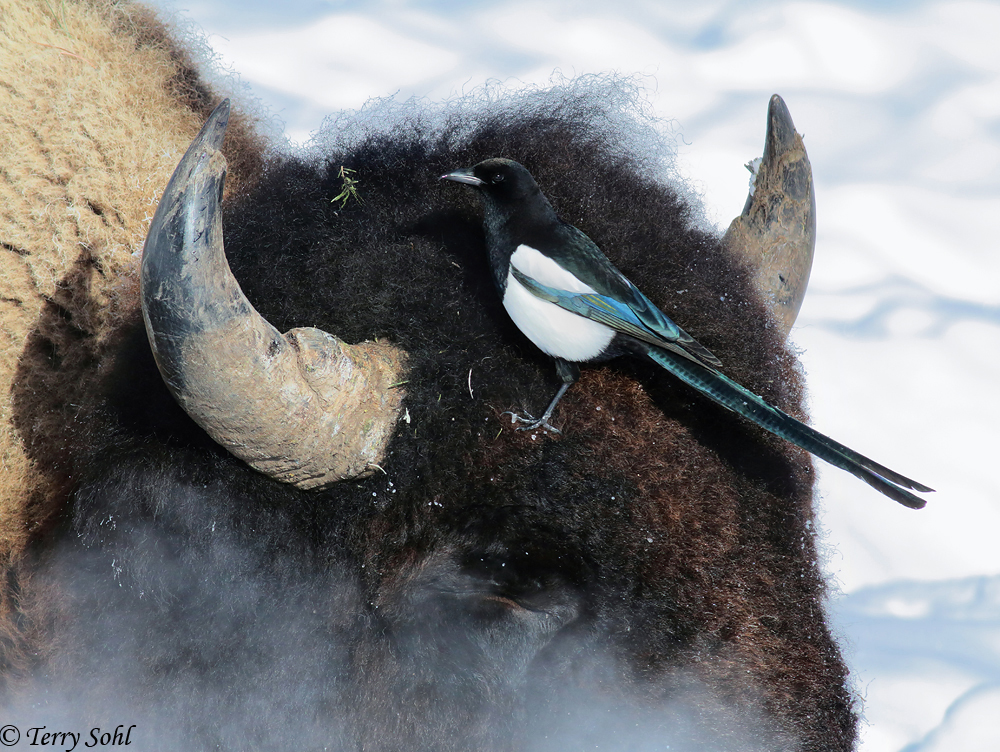 Click here for more information on this species
All photos copyrighted! Click for information on commerical usage, or usage for other personal purposes.
Please email if you'd like to order a print of these photos
Use the following Google dialogue to search this South Dakota Birds and Birding site:
Custom Search
SOUTH DAKOTA BIRDS AND BIRDING - LOCATIONS OF WEBSITE VISITORS
Please mail any comments/suggestions/additional links for this page to: Terry L. Sohl