Barred Owl
Strix varia
A ghost. A bird you just don't see in South Dakota. Barred Owls are found throughout the forested eastern U.S. and much of Canada, but in South Dakota? Where we have vast swaths of cropland and prairie with nary a tree in sight? They're a rare sight, with nearly all sightings in the far southeastern edge of the state. Even when they're present, they're more often heard than seen. They've been thought to have been breeding recently in and around Newton Hills State Park, and there was one memorable spring where you could both see and hear a breeding pair as they courted near the Sergeant Creek portion of the park. I've had occasional sightings of Barred Owls in the years since, but it's usually a brief glimpse, and it's ALWAYS a surprise. This bird was no different. In May of 2017 I went down to Newton Hills right at dawn, with the plan to look for migrating warblers and other songbirds. As I drove down the hill towards the river and the park entrance, I saw a shape in a tree right next to the road. As I slowed down, I saw the Barred Owl, staring down at me from very close range. At that time of the morning, we had the road to ourselves, and he just cocked his head a bit and checked me out as I stared back in amazement. A surprise, a shock...a WONDERFUL way to start a day of birding. I took a number of photos before putting down the camera and just watching him for another 15 minutes or so. After I had my fill, I slowly pulled away, and like the ghost that he was, he flew back into the forest. I returned to the same area a number of times over the summer of 2017, but never again saw nor heard any sign of a Barred Owl.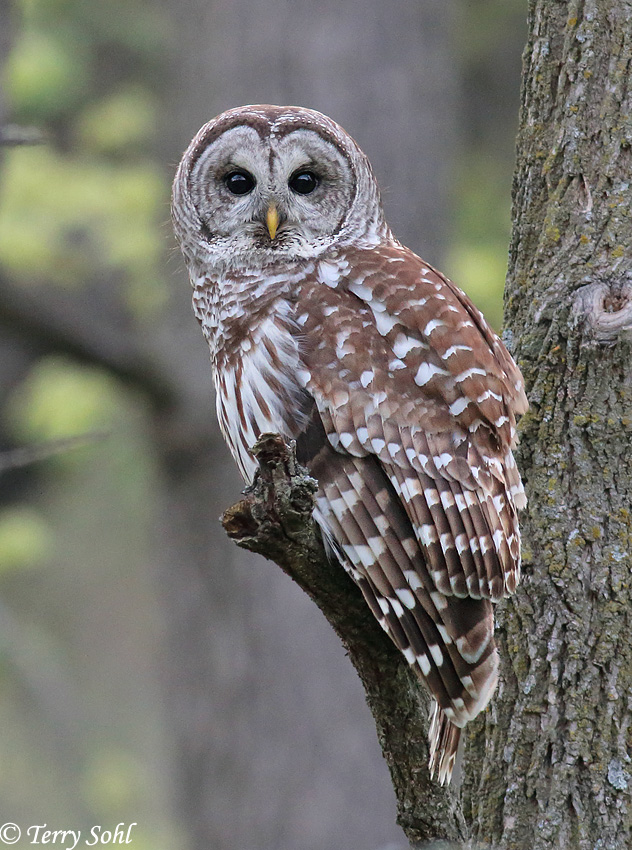 Click here for more information on this species
All photos copyrighted! Click for information on commerical usage, or usage for other personal purposes.
Please email if you'd like to order a print of these photos
Use the following Google dialogue to search this South Dakota Birds and Birding site:
Custom Search
SOUTH DAKOTA BIRDS AND BIRDING - LOCATIONS OF WEBSITE VISITORS
Please mail any comments/suggestions/additional links for this page to: Terry L. Sohl