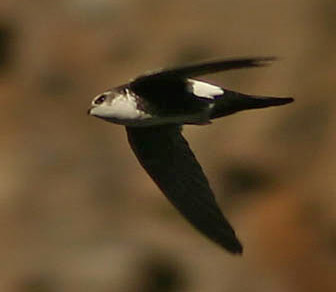 The White-throated Swift is a species of the western U.S., generally found around canyons and cliffs where they breed. In recent decades, they have also begun to utilize highway overpasses and crevices in buildings for nesting. However, they may be found in almost any habitat in the West, as birds forage many miles away from their nesting location. They have been called the fastest of all flying North American birds, reaching speeds that may be in excess of 200 miles per hour.
Habitat:
Can be found in nearly any habitat with available flying insects. They primarily breed on cliffs and canyons, however, and occasionally in crevices of buildings.
Diet:
Feeds on flying insects.
Behavior:
Forages exclusivity while in flight.
Nesting:
June and July in South Dakota. The nest is a shallow, half-cup made of vegetative material and feathers, bound together with the bird's own saliva. The nest is placed in a protected, usually inaccessible location, such as a vertical crevice in a rocky cliff face. The female lays between 4 and 5 eggs, and both parents help to incubate the eggs. Upon hatching, both parents help tend to the young.
Song: A ringing he-he-he-he-he
Migration:
Summers in the western United States. Winters in the Southwest U.S., Mexico, and Central America.
2) WhatBird - White-throated Swift
3) Audubon Guide - White-throated Swift
Photo Information: April 20th, 2006 - Spokane County, Washington - Michael Woodruff, 2006