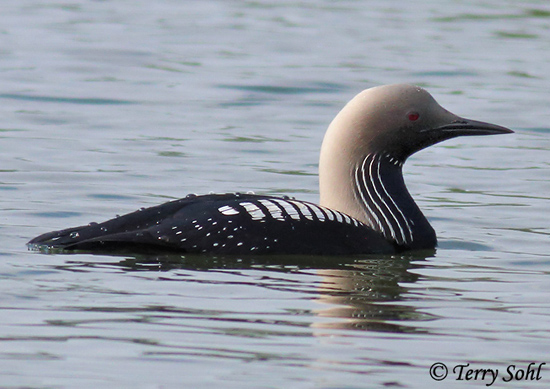 The Pacific Loon is almost exclusively found along the North American Pacific coast in the winter time, but in summer, can be found in northern Canada as far east as Hudson Bay and Baffin Island. They are rarely found inland during migration, and are thus only very rare visitors to South Dakota. The image to the right shows a winter-plumage bird. Birds in breeding plumage exhibit handsome black-and-white vertical striping on their necks, contrasted with a gray head.
Habitat:
Summer breeding habitat is primarily shallow lakes on the Arctic Tundra, as well as forested lakes in northern Canada and Alaska. Winter habitat is primarily along the Pacific Ocean, sometimes well out to sea.
Diet:
Primarily feeds on small fish if available, but will also consume crustaceans, mollusks, aquatic insects and their larvae, and occasionally plant material.
Behavior:
Forages by diving below the water's surface and propelling itself with its feet in search of prey. They will often partially submerge their head below the surface in search of food items before initiating a dive. Breeding pairs are thought to breed for life.
Nesting:
Non-breeder in South Dakota.
Song:
Generally silent during migration through the state.
Migration:
Summers in northern Canada and Alaska. Winters along the Pacific coast from Alaska down through Mexico.
Similar Species: The Pacific Loon is extremely similar to the Arctic Loon. Otherwise, they are most often confused with other loons (Red-throated Loon, Common Loon
) in non-breeding plumage.
Status:
Generally stable throughout its normal range.
2) Audubon Guide - Pacific Loon
Photo Information:
May 22nd, 2014 - Near Eagle River, Alaska - Terry Sohl