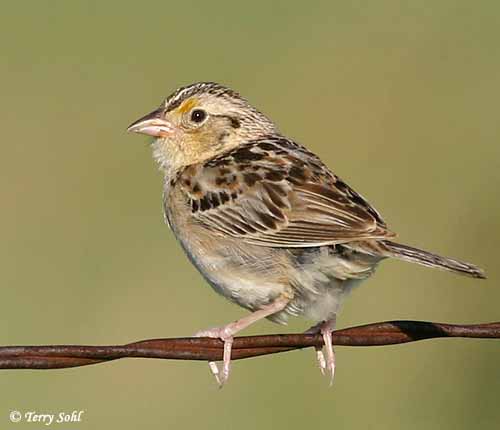 Named after its song which is very similar to a grasshopper, the Grasshopper Sparrow can sometimes be difficult to observe. Unless singing during the mating season, they prefer to stay out of sight near the ground in grassy areas. However, in South Dakota, they can sometimes be seen along fence lines, perched on barbed wire or singing from fence posts.
Habitat:
Grasslands and prairies, prefer ably with tall grasses and scattered shrubs. Will also use hayfields, and occasionally agricultural fields with other crops.
Diet:
Primarily feeds on insects and spiders in the summer, while seeds and waste grain make up most of the diet in the winter (and a portion of the summer diet). Also will feed on earthworms and snails.
Behavior:
Nearly always forages along the ground. During the summer breeding season, they sometimes are found in loose breeding colonies, with individual males defending small patches of turf by singing from low perches.
Nesting:
June and July
Migration:
Summers throughout much of the U.S. Winters in the southern U.S. and points south.
Conservation Status:
Has shown severe declines locally. The Florida sub-species is seriously endangered, as are local populations in the Appalachians. Still common and widespread in many areas, however. In South Dakota, they often show a strong preference for Conservation Reserve Program (CRP) land. In recent years, many farmers are giving up their CRP contracts and planting crops on former CRP land, which has the potential to seriously affect Grasshopper Sparrow populations in many areas.
2) BirdWeb - Grasshopper Sparrow
3) Audubon Guide - Grasshopper Sparrow
Photo Information:
July 16th, 2004 -- Near Richland Wildlife Area on the Fort Pierre National Grasslands -- Terry Sohl
Additional Photos:
Click on the image chips or text links below for additional, higher-resolution Grasshopper Sparrow photos.