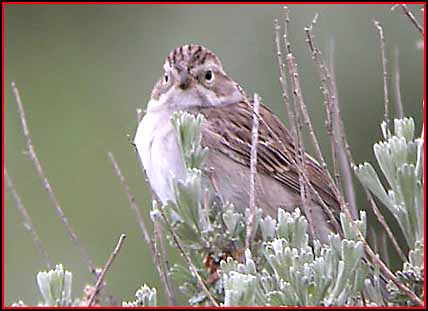 The Brewer's Sparrow is a rather non-descript resident of sagebrush flats of the western U.S. Quite common throughout the West, a jumbled chorus of multiple singing males is a common sound near sunrise and sunset. They usually don't spend a great deal of time on their summer breeding grounds, with some spending more than nine months a year on their wintering grounds.
Habitat:
Sagebrush, other brushy grasslands, open woodland, or shrubby forest edges.
Diet:
The spring and summer diet is primarily insects, while the fall and winter diet is primarily seeds. Used to dry habitats, they can survive for long periods without drinking.
Behavior:
Primarily forages on the ground or low in brush and shrubbery. Brewer's Sparrows are sociable in most seasons other than when nesting, foraging in flocks.
Nesting:
June and July. The nest is a small cup built of grasses, weeds, twigs, and other fine vegetative material. The female usually lays 3 or 4 eggs. Upon hatching, both parents help to feed the young. The young leave the nest within 10 days, but are still fed by the parents for a short time after fledging. In some areas, Brewer's Sparrows may raise more than one brood per breeding season.
Song:
A descending series of varied trills and buzzes.
Migration:
Summers throughout much of the western U.S. and portions of western Canada. Winters in the southwestern U.S., Mexico, and southward.
Bird Feeders:
Will come to feeders for baby chick feed, seeds.
Photo Information:
May 23rd, 2003 -- Fall River County, Buffalo Gap National Grasslands -

- Doug Backlund
Additional Photos:
Click on the image chips or text links below for additional, higher-resolution Brewer's Sparrow photos.