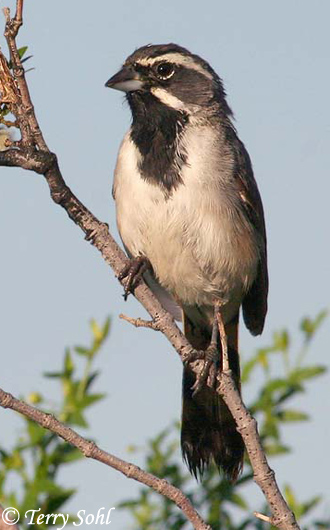 The Black-throated Sparrow is primarily a bird of arid regions in the West, where they can be quite common even in areas with very sparse vegetation. While not shy when approached by humans, they do not adapt well to the intrusion of human development in their native habitats. To ensure adequate water supplies for young, timing of the nesting season usually coincides with the timing of rains.
Habitat:
Can be found in a variety of dry open habitats, including quite barren salt flats with scattered bushes, sagebrush flats, grasslands with scattered cactii, and open pinyon-juniper woodlands.
Diet:
Feeds on insects and seeds, with the balance tipping towards insects in the summer and towards seeds in the winter. They will also eat green buds and fresh leaves when available, as well as fruits and berries. They can survive for long periods without water, drawing water from the insects and vegetation that they eat.
Behavior:
Mostly forages while running along the ground, although they will also forage in desert cactii and shrubs. Males will sing from high perches during the summer breeding season.
Song:
Two or three bell-like notes followed by a rapid trill.
Migration:
Summers in much of the interior U.S. West. Winters in the Southwest U.S. and Mexico, where many birds are permanent residents.
Conservation Status:
Increased development in desert habitat has reduced numbers in some locations. They do not adapt to a human presence like many species of sparrows.
2) WhatBird - Black-throated Sparrow
3) Audubon Guide - Black-throated Sparrow
Photo Information:
September 7th, 2006 -- Near Tucson, Arizona -- Terry Sohl
Additional Photos:
Click on the image chips or text links below for additional, higher-resolution Black-throated Sparrow photos.