South Dakota Birds and Birding - Home Page
South Dakota Birding"Hotspot"
Good Earth State Park
Area #3 - The Grassy Loop
The image below from Google Earth's "Streetview" depicts the "Grassy Loop", a large area of grasses, herbaceous vegetation, and wildflowers found just east of the Good Earth State Park Visitor's Center. The vantage point here depicts the first area where a hiker or birder is provided a choice of trail, but the trail here forms a loop around the entire grassy area (with side trails and spurs off of it at various points).
The "Grassy Loop" is absolutely wonderful in most seasons, as the variety of plant life within this loop is very broad, and is probably more representative of what our "grasslands" may have looked like before mankind and invasive species altered so much of it. It's often alive with bird life, with the birds attracted to seeds, insects, and blooms found in the loop. The entire loop is surrounded by dense forest, and you often see some weirdish juxtaposition of woodland birds foraging out in the open in the grassy loop. In short, it's a great area to look for a wide variety of bird species, and is also great for butterflies and other insects.
The photo below of a Great-crested Flycatcher foraging in the Grassy Loop is a good example! On multiple occasions, I've seen Great-crested Flycatchers fly in from the adjacent forest, and forage out in the open on the Grassy Loop. Given that Great-crested Flycatchers are most typically found in the forest canopy, it's a good indication of how the juxtaposition of grassland and forest here seems to benefit species that specialize in both habitat types.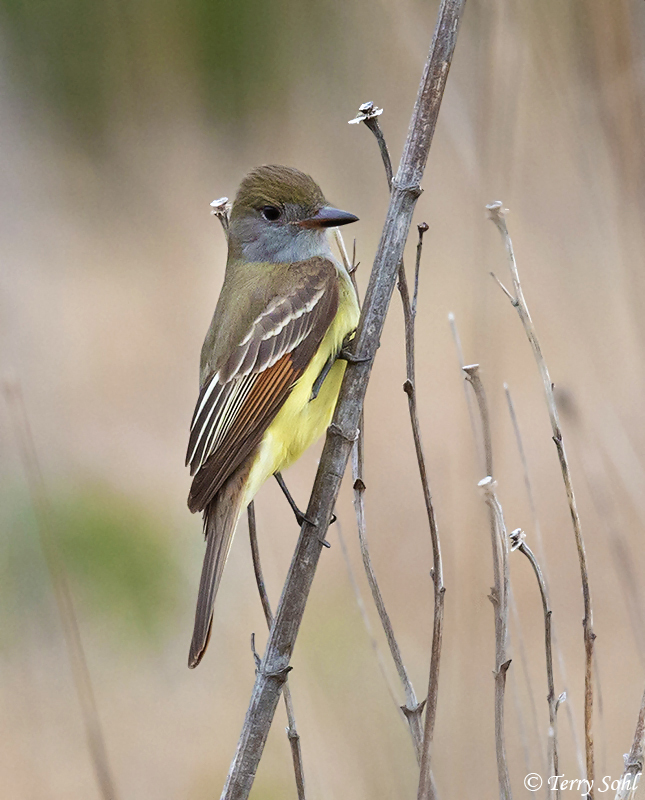 Use the following Google dialogue to search this South Dakota Birds and Birding site:
Custom Search
SOUTH DAKOTA BIRDS AND BIRDING - LOCATIONS OF WEBSITE VISITORS
Please mail any comments/suggestions/additional links for this page to: Terry L. Sohl