South Dakota Birds and Birding - Home Page
South Dakota Birding"Hotspot"
Good Earth State Park
Point #2 - Visitor's Center and Surrounding Area
The Visitor's Center of Good Earth State Park opened in 2017. It's really a beautiful building, and has some great information inside about the history of the region. It's also a place to check out when birding the park! First of all there are two feeder complexes in close proximity. The first of those (the smallest one) is seen on the right side of the photo below, with a couple of feeders hanging from trees near the Visitor's Center. The second, more extensive feeder complex is behind the building, and can be seen as soon as you round the left side of the building.
The feeders are at the boundary of open, grassy habitat and the more heavily forested habitat of the park, particularly the feeder complex behind the Visitor's Center. As such, they can attract grassland, "edge", and forest species. There's also typically a hummingbird feeder on the back side of the Visitor's Center, and there always seem to be Ruby-throated Hummingbirds hanging around in summer.
You never know what might show up, even in a "developed" part of the park such as this! In the fall of 2019, a very lost Rock Wren was found hanging around the Visitor's Center! It certainly resulted in an unusual photo opportunity for a Rock Wren, with the photo below taken of the bird as it lounged on a polished stone countertop in the open patio at the rear of the Visitor's Center!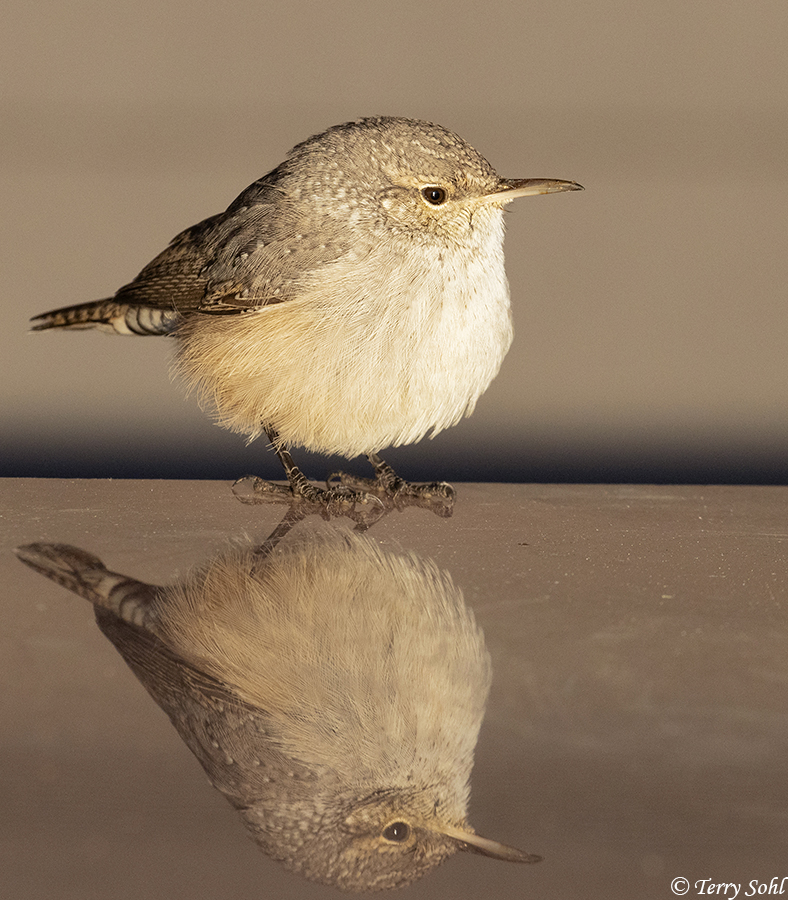 Use the following Google dialogue to search this South Dakota Birds and Birding site:
Custom Search
SOUTH DAKOTA BIRDS AND BIRDING - LOCATIONS OF WEBSITE VISITORS
Please mail any comments/suggestions/additional links for this page to: Terry L. Sohl