South Dakota Birds and Birding - Home Page
South Dakota Birding"Hotspot"
Fort Pierre National Grasslands
Location#4 -- Massive Prairie Dog Town
This truly massive prairie dog town is on Lower Brule Reservation land, just to the east of the Fort Pierre National Grasslands, on County Line Road. It's a spot where I've found raptors at all times of year. Most people don't think of Bald Eagles as occupying the rather dry Grasslands in the winter, but in this spot, there always seem to be 2 or 3 hanging out in the trees by the pond in the southern part of this image. This is yet another place in the Grasslands where I have spotted a Gyrfalcon as well.
To find the area by GPS coordinate, the geographic coordinates of the main road, just north of the "Pond and Trees" area marked below, is 44° 11' 41.9" N, and 100° 2' 2.0" W.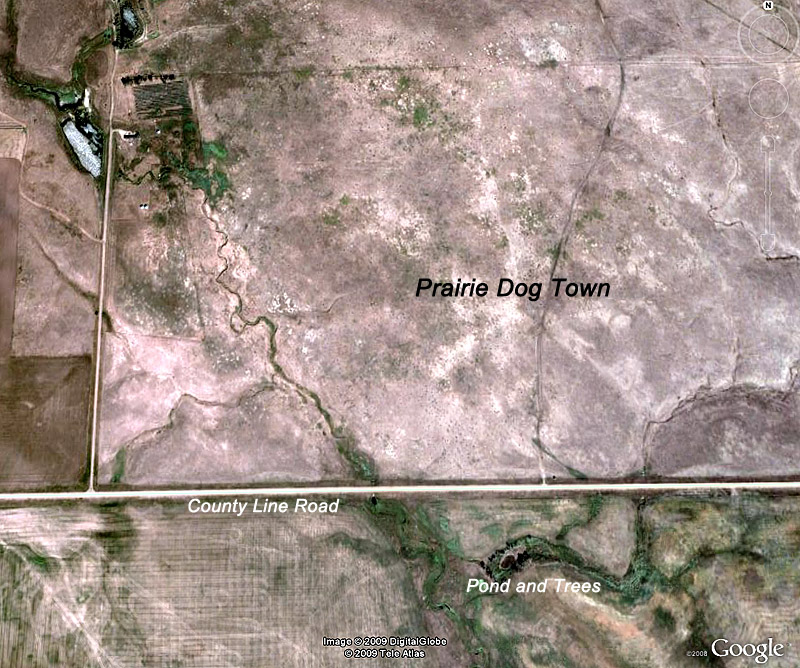 Use the following Google dialogue to search this South Dakota Birds and Birding site:
Custom Search
SOUTH DAKOTA BIRDS AND BIRDING - LOCATIONS OF WEBSITE VISITORS
Please mail any comments/suggestions/additional links for this page to: Terry L. Sohl